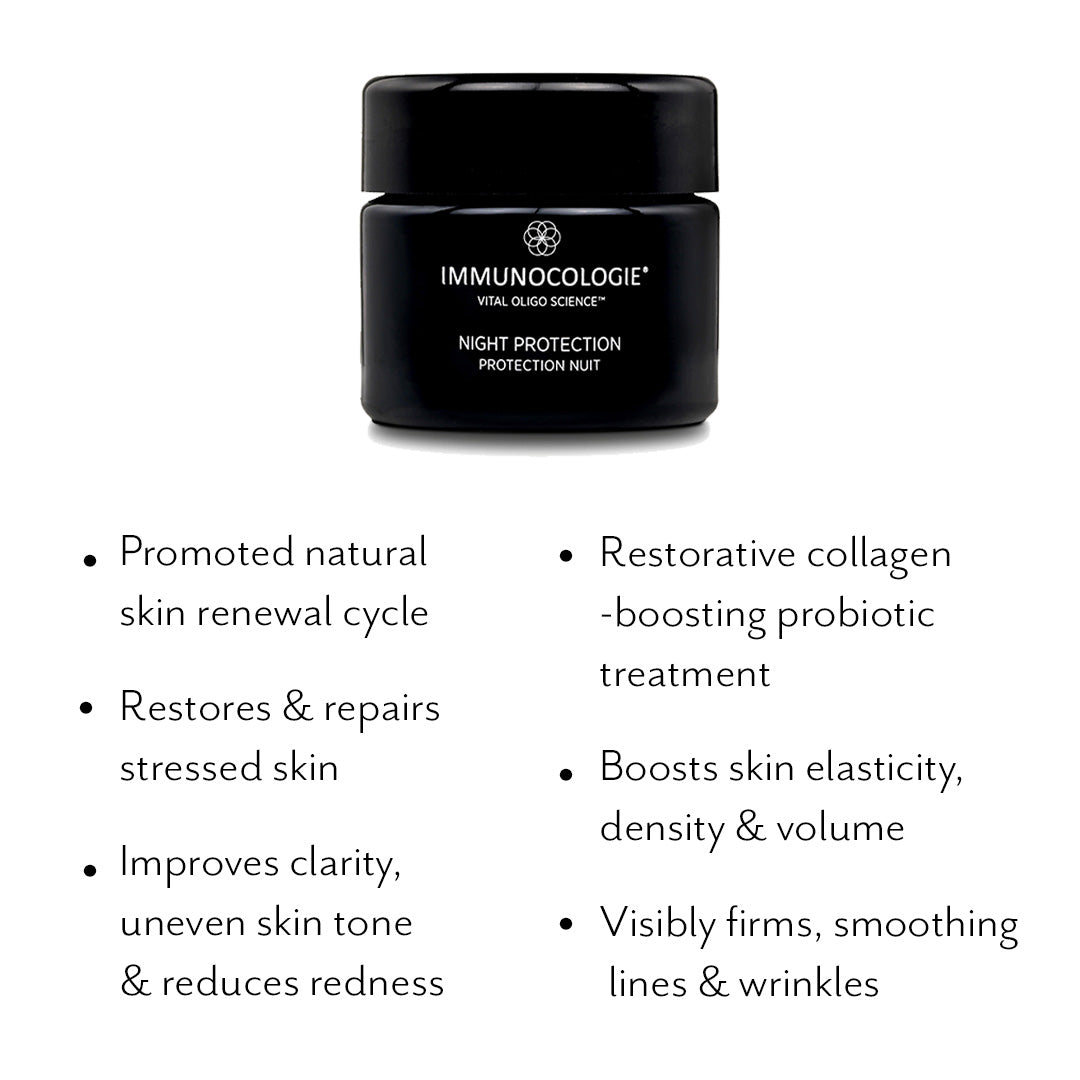 NIGHT PROTECTION
a hydrating & protective night cream
Description
Ingredients
How to Use
Hydrating | Protecting | Rejuvenating 
Ideal for all skin types, even those that are sensitive or immunocompromised.
Helps repair your skin barrier overnight while reducing the appearance of fine lines and wrinkles. A more hydrated, even, and radiant complexion is revealed by morning- the ultimate silky overnight creme.
Key Benefits 
Highly regenerative, the serum amplifies collagen production and stimulates cellular turnover.
It restores skin health, stimulating its natural metabolic rate to function in peak conditions.
Boosts skin elasticity, density, and volume.
Provides probiotics, nourishing oils, and antioxidants ethically sourced from natural extracts.

Helps relieve sensitivity and redness.

Stimulates skin synthesis of hyaluronic acid, providing increased hydration.
50ml / 1.7fl oz
Ingredients

Aqua, Balanites roxburghii seed oil, Butyrospermum parkii seed butter, Olea europaea oil, Glycerin, Bentonite, Moringa oleifera seed oil, Cetearyl alcohol, Sodium magnesium silicate, Benzyl alcohol, Helianthus annuus seed oil, Gluconolactone, Sodium benzoate, Sucrose stearate, Protium heptaphyllum, Chondrus crispus, Montmorillonite, Urea, Pogostemon cablin oil, Xanthane gum, Hyaluronic acid, Borojoa patinoi pulp extract, Tocopherol (mixed), Vetyveria zizanioides oil, Balanites roxburghii seed extract, Ulva Lactuca Extract, Citric acid, Limonène, Linalool, Citral, Coumarin.

Formulated without

Animal testing, Artificial ingredients, Detergents/Harsh soaps, Sulfates (SLS & SLES), Dyes, Formaldehyde, Mineral oil, Parabens, Phthalates, Silicones, Sulfates, Synthetic fragrances
High-Performance Botanical Ingredients
Balanites Roxburghii Seed Oil - High in essential fatty acids from the Desert Date Tree, Balanites Roxburghii Seed Oil deeply nourishes skin while penetrating quickly for a non-greasy feel. Cold pressed (which protects vital nutrients), this oil is rich in saponins which helps relieves sensitivity and redness. The oil helps to regenerate and replenish the skin.

Helianthus Annuus Seed Oil - Sunflower Seed Oil is ultra-rich in Omega 3, 6, and 9 and helps relieves sensitivity, minimize dark spots, soften fine lines, and the other signs of aging caused by sun exposure. This ancient skin oil has been used for more than 5000 years.

Shea Seed Butter Extract - A deeply moisturizing ingredient that helps restore skin elasticity. Hydrates dry and dehydrated skin.

Botanical Extracts - An aromatic blend of plant extracts chosen for their potent antioxidant properties. Helps protect and restore skin while enhancing radiance.

Vital Oligo Complex - Immunocologie's patented delivery technology –  Transports 12 essential minerals needed for healthy, vibrant, balanced skin.

Functional Aroma - Immunocologie is known for its delicate, clean, woody, earthy aroma. The soothing signature aroma combines active Vetiver and Patchouli, which helps reduce redness and fight bacteria.

Desert Date Seed Oil - Cold pressed and rich in nourishing essential fatty acids and saponins that help reduce inflammation. Helps regenerate and replenish.

French Green Clay Water - Hydrates and brings minerals to the skin for improved softness, radiance, whilst helping relieve sensitivity. Stimulates skin for a more lifted look.

Moringa Oleifera Seed Oil - A nourishing oil rich in oleic acids and antioxidants. Helps reduce fine lines and wrinkles, and restore dull skin.